Made to measure plantation shutters are exactly what you need in Hove! For years now we have been working with the period properties that this fantastic town has to offer. Often windows here are not perfectly level and can sometimes let in a bit of a draft. With our bespoke services, there is no need to replace the single glazing or try to adhere to strict conservation laws the shutters will help to insulate with style. Our shutter blinds are made to fit your windows, so no matter if they are wonky, or oddly shaped, our professional team will find a perfect solution. Call us to find more.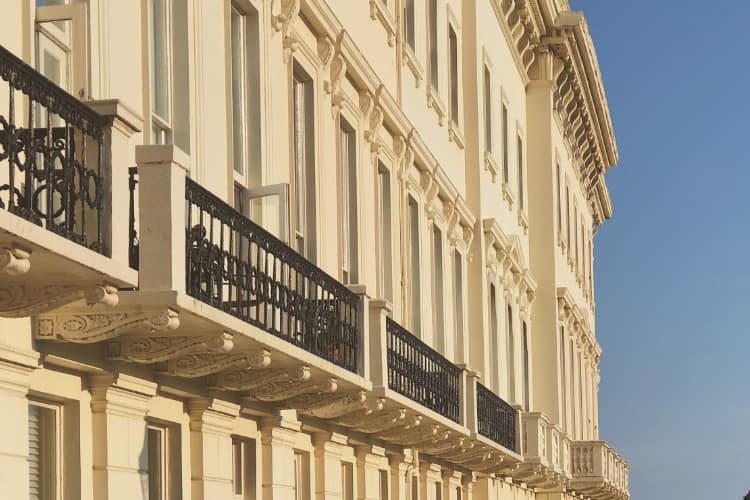 Free Home Consultation
We provide free in-home design consultations in and around Hove to help you choose the best window shutters for your home. Full height, café style, tier on tier, or solid range – we will give you detailed information on the interior shutter options that will suit your needs, whether it is privacy, insulation, noise reduction, or light control. Our service is  bespoke, which means your new shutter blinds will be measured, crafted, and installed with your unique requirements in mind.
Find out more about the Sussex locations we cover here, get in touch if you have any questions, or book your in-home design appointment below.
Why we love working in Hove
Hove has a truly fascinating history. Originally, a small fishing village surrounded by open farmland, it grew rapidly in the 19th century in response to the development of its eastern neighbour Brighton. Old spellings of Hove include Huua (13th century), Huve (14th and 15th centuries), Hova (16th century), or our favourite "Hove actually"! Moreover, its gorgeous houses are hiding prehistoric secrets. Fossilised remains from the Pleistocene era have been found in three locations in Hove: an 11-pound molar excavated from the garden of a house in Poplar Avenue, teeth from a juvenile elephant deep in the soil at Ventnor Villas, and a prehistoric horse tooth in the ground near Hove Street. We are not telling you to go dig up your garden, but you might be sitting on a gold mine of fossils. Who knew Hove was so interesting?! All of us 'actually'! Today there are over 3,360 listed buildings and structures in Brighton & Hove, making it one of our most favorite locations for installing premium window shutters in East Sussex!